Leveling up Phnom Penh with a techno hub, green living at ODOM
ODOM is setting a new gold standard among mixed-use developments, a vertical village that will no doubt become an iconic sight in the Phnom Penh skyline. Spearheaded by Urban Living Solutions (ULS) and designed by Kite Studio Architecture, it's a destination with placemaking and innovation at its heart, reviving that innate Khmer sense of community in a rapidly changing urban landscape.
A vibrant urban community
The twin structures of Odom will feature high-end office spaces at Odom Tower, and well-designed living spaces at Odom Living. They will be joined together at Odom Square, a dynamic 9,500 sqm. platform for experiential retail and curated selection of fusion dining spots, concept stores, and other premium enterprises.
Essentially, Odom Square will be a community greenspace with massive amounts of verdure incorporated into modern-minimalist architecture. This garden-above-ground shall amass residents of Odom Living, office workers on break from Odom Tower, and visitors from all over Phnom Penh opting for a refreshing alternative to conventional malls and indoor crowds.
Odom Tower will soon be the most enviable venue for the next generation of entrepreneurs and business owners. Docking an office here would place one less than 800m from the Independence Monument, a virtually recession-proof area of the city ensuring steady returns and consistent market demand for various industries.
On the other hand, Odom Living aims to cater to modern families seeking spacious apartments as well as the younger generation of go-getters who crave that wholesome balance of a fast-paced lifestyle and personal wellness. From one-bedroom urban pads to comfy family nests, the 25 floors of this residential tower will eventually be home to a densified urban population enjoying the forefront of the ultimate "Live Work Play" destination.
View listing: ODOM 1 Bedroom Condo
The "it" place for urban dwellers, investors, and visitors
Home hunters will have eight (8) unit types to choose from at Odom Living, ranging from single-room apartments championing home efficiency to larger three- or four-bedroom abodes designed for young families and larger households. All feature two balconies, with double exposure or corner locations guaranteeing plenty of natural light and a warm, welcoming atmosphere.
Inside Odom Tower, investors can peruse the wide selection of strata-title office spaces ranging from 63-sqm niches to multiple-floor properties. The venue already expects to attract international businesses making their first entry into the Kingdom as well as homegrown expansion stories. Odom offices present a solid investment, a premier choice for entrepreneurs looking to leave their mark and legacy in Phnom Penh.
For retail businesses, Odom Square's units for rent expect to range from 50 sqm. to 360 sqm. Established brands, trendy cafés and restaurants, and unique start-ups will find a hip, high-traffic location in this green space with the Phnom Penh cityscape as the breathtaking backdrop. Considering the dynamic experience it offers, it will be the place to be for youngsters, working professionals, and families alike.
View listing: ODOM Strata Office For Sale
Odom Garden: a pop-up to test the waters
With major works pending at the construction site, a portion has been transformed into a garden complex in the meantime with lush tropical trees, elegant footpaths, and various recreational facilities true to the Odom vision of fostering close-knit communities and bringing nature back into the city center.
The Odom Garden opened in July 2020, offering visitors a children's playground with active equipment and safety elements; a dog garden perfect for urban pet owners who often lack free space for letting their furry friends run about; and a total of three plazas where large groups can gather for outdoor aerobics, yoga, or even zumba or dance sessions.
Visitors will be delighted to see Botanico set up on-location to complement the gardenscape venue. Also unique to this temporary park is an "ashiyu" bench, which is a footbath of Japanese origin and design where patrons can rest their feet, a relaxing treat particularly on hot days.
Odom Garden is open daily from 8:00AM onwards, closing at 7PM on Sundays, 10PM on Mondays through Thursdays, and at 11PM on Saturdays. You'll also find the Odom temporary sales office within the Garden, which includes a showroom with a sample office space and model condos of the two- and three-bedroom units. It is operational from 9AM to 6PM.
Livability and sustainability
At its core, ULS as a developer uses a comprehensive lens combining real estate and lifestyle empowerment, hence the community-focused Odom positioned smack in the middle of Cambodia's bustling center. Likewise, Kite Studio approaches master planning and landscaping projects with an eagerness for adventure and discovery—pushing boundaries to constantly bring something new to urban livability.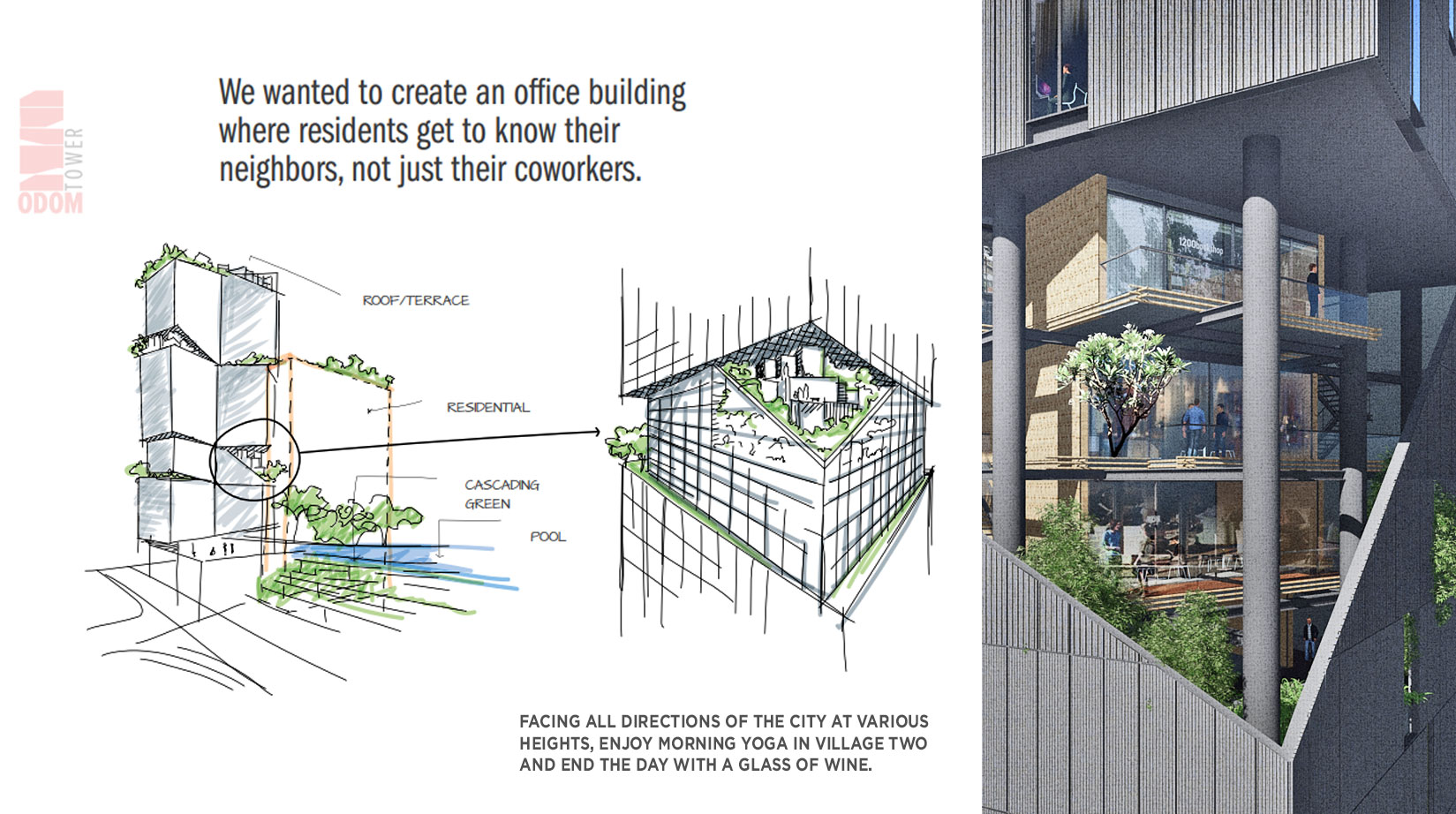 With firms like these behind Odom, it's no wonder we will be seeing this fusion of a healing ambience for people's overall well-being, and an energizing hub that encourages commercial innovation.
Odom is exactly what a global city like Phnom Penh needs to keep up with the latest trends in business and technology, while sustaining a healthy and motivated population able to maximize any opportunities coming their way.