One of the fastest developing cities in Cambodia is Phnom Penh, which has massively flourished as the hub of businesses over the past few years. While it's already the center of trade and commerce of the country, there are still numerous areas like the south of Phnom Penh where businesses can expand. We've curated everything you need to know about retail supplies in Phnom Penh, so continue reading below!
Current retail supply
According to the retail market research conducted by the mall design consultation company, The Mall Company, the south of Phnom Penh will see an immense growth in retail centers. Currently in the Q3 of 2022, there are already 5 completed retail centers in the South of Phnom Penh with a total area of 82,843 square meters. 
These centers though can be categorized into shopping malls, community malls, and retail shophouses. Shopping malls currently stand to have the most number of retail supplies in this area at 54,714 square meters. Following that are the community malls, which are generally closer to residential areas, at 19,683 square meters. Retail shophouses make up the remaining at 8,446 square meters.
Retail supplies: In development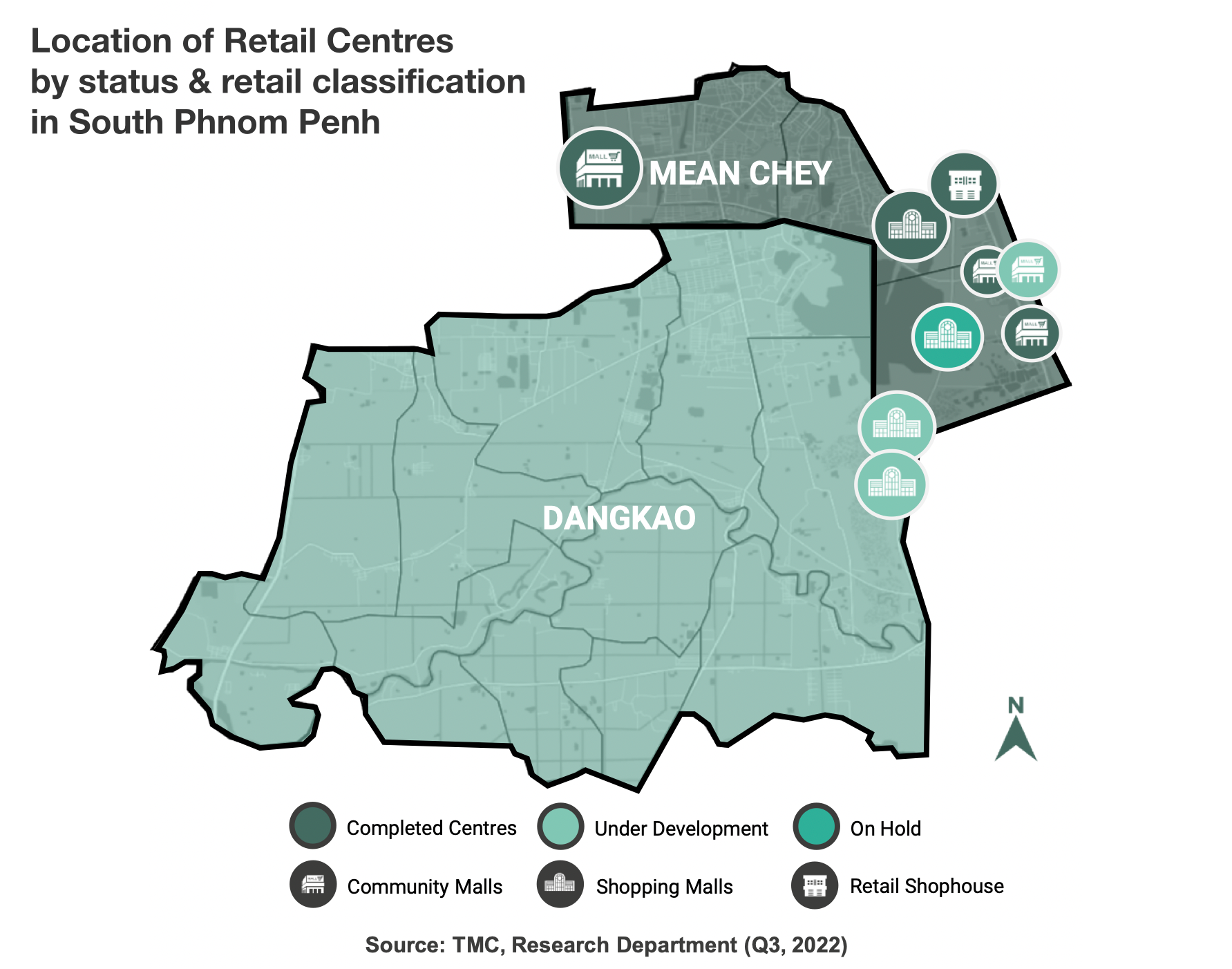 While the current retail supply is already a large improvement considering that Southern Phnom Penh only had less than 20,000 square meters of supply in 2019, there are more undergoing construction. 
Four retail hubs, with three in development and one on-hold, are expected to be completed by 2023 to 2024. In total, these 4 retail centers, if they're completed on time, will add 157,902 square meters to the current supply in this area of the city. This will then make South Phnom Penh's retail supply to 240,745 square meters by the end of 2024.
Once these new developments are completed by end of 2024, the percentage of retail supply in this area will look like this:
Shopping malls: 84% with 4 malls

Community malls: 14% with 4 malls

Modern shophouses: 3% with 1 shophouse
The future of retail supplies in South Phnom Penh
There has only been a rapid growth of retail centers in South Phnom Penh over the past few years, specifically in 2022 since it's more than 80,000 square meters now, jumping from the previous in 2021 which was less than 30,000 square meters. Riding on this urban expansion for retail real estate developments, more projects are expected to join the bandwagon of investments. This is especially true since more investors are seeing a large potential for this area, launching more residential real estate projects.
Moreover, this Southern area is connected to the city center via the Hun Sen Boulevard, which makes it easier for residents and tourists to travel back and forth. Due to this, whether you're looking to expand your business into South Phnom Penh, buy a home for yourself, or as an investment, it's the right time to start checking out the real estate market there. In that case, you can trust us to help you find the right office, residence, or business when you get in touch!